Here's what's in our cookies
Iced shortbread cookies: Flour (gluten), margarine, sugar, sugar paste icing, clear jelly (sulphites), food colouring. 
Allergens in recipe: Gluten, Sulphites*
Store at room temperature in original packaging or an airtight container for up to 2 months.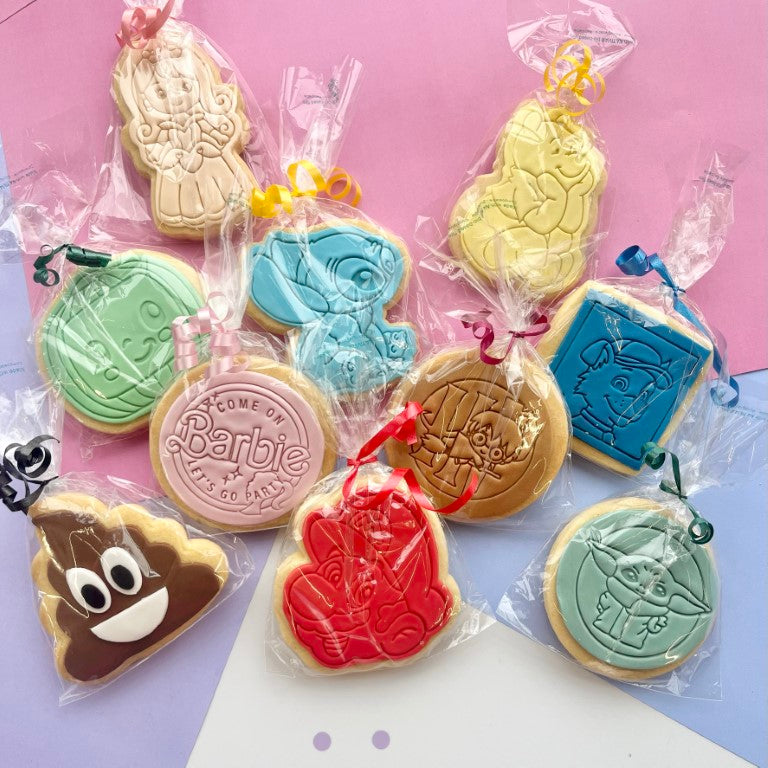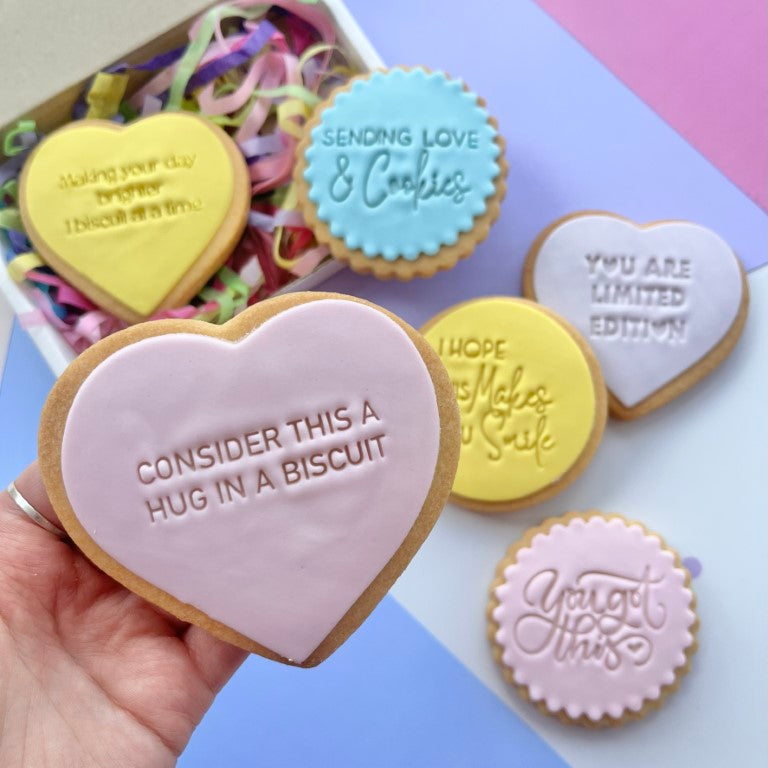 Looking for more? Here's a detailed description of our ingredients.. 
Cookie - Golden Flour (wheat flour, calcium carbonate (E170), iron, nicotinamide (VitB3), Thiamine Hydrochloride (VitB1)), Margarine (Vegetable oils (palm, rapeseed), water, salt, emulsifier (E475), colours (E100, E160b), flavourings)), Sugar (or sucrose), Neutral Merjel (glucose syrup (Preservative: Sulphur dioxide (E220)), Water, Dextrose, Sugar, Gelling agent: Carrageenan (E407), Potassium chloride (E508), Acidity regulator: Citric acid (E330), Sodium carbonates (E500), Thickener: Sodium carboxy methyl cellulose (E466), Preservative: Potassium sorbate (E202), Acid: Acetic acid (E260)). Sugar paste Icing – Sugar, glucose syrup, palm oil, water, humectant (glycerine (E422)), emulsifier (E471), stabiliser (E466 / E413), preservative (E202), flavouring, may contain any of the following*: E171, E153, E100, E122, E129, E133, E151, E163, E161b, E160a, E172. (Any Chocolate flavour icing also contains fat reduced cocoa powder).
May contain Edible frosting sheets – Tapioca Starch, Corn Syrup, Corn Syrup Solids, Cellulose, Water, Sugar, Canola Oil, Polysorbate 80, Arabic Gum, Citric Acid, Sorbitol, Glycerine, Titanium Dioxide, Vanilla. Edible Ink – Water, Solutizer (E1520), humectant (E422), Acidity Regulator (E330), may contain any of the following*: E102, E110, E122, E133, E151.
Depending on your chosen design, additional food colourings may be added* - these could include E129, E122, E124, E104, E110, E102.
*Please note: May have an adverse effect on activity and attention in children.
Allergens: See ingredients in bold 
Typical values, per 100g. (Will vary based on design) Energy 2021kj, 483kcal. Fat 22g. Of which saturates 7.7g. Carbohydrate 69g. Of which sugars 39g. Protein 3.2g. Salt 0.5g. 
 Average cookie weight - 75g-100g.
Manufactured by: Gardners Bakery Ltd, 85 Harborough Road, Northampton, Northamptonshire, NN2 7SL, Hello@gardnerscookies.co.uk.
Damages

We package our cookies as best as we can to avoid breakage, however they are a freshly baked cookie so damages may happen.

Don't worry, they still taste great!

Contact Us

If there is a problem with your cookies please pop us over an email at hello@gardnerscookies.co.uk.

Be sure to include a photo of your order as well as your order number.

Returns

All of our cookies are made to order, meaning our cookies cannot be returned.

In the event of a customer complaint, the order may need returning - we do not cover postage fees.